Description:
The conductors are bare copper or tinned soft copper strands.
PVC insulation, core wire similar to UL1015.
No isolation or fillers.
Multi-core control cable, PVC coated.
Rated temperature: 105 degrees, rated voltage: 600 volts.
It can pass the UL VW-1 vertical flame resistance test.
Structure: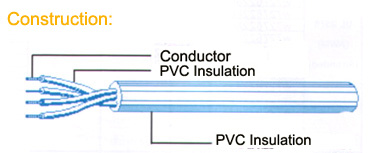 Application:
Suitable for control, audio-visual equipment, EIA-232 international electrical coded cable.